I wrote my daughter, Opal, a letter on May 3, the day before her due date and just over a week before she would actually be born. As I wrote that letter, I felt her imminent arrival, and was sure she would arrive in a matter of days.

As I later understood it, I was in a ripe window for her birth. I felt it on all levels, and received many signs that she was very soon on her way. This opening was a very light, relaxed physical feeling. At acupuncture, everything felt easeful and comfortable. I was sleeping well. Food tasted delicious. I was pooping up to four times a day - my body was making all its preparations, and nothing felt off. Mentally, I felt focused and present. I can't say I felt "ready," but I'm not sure if FEELING ready is what I needed for Baby to arrive. I was present, and that is the foundation of being ready. Spiritually I was in touch with Opal, and I knew she was happy and healthy, and also ready to go.

During a visit to see Lindsey, our midwife, the day before writing the letter, she said she didn't think we would be meeting for our next scheduled appointment a week later because the baby would already be born. We were due for a weekend of rain, and she mentioned that the change of weather could help start the birth. It was unlike Lindsey to say anything that would lead me to have expectations, so I felt like I was getting all the signs.

My due date came and went, then another day, another day, and another day. I watched myself become disappointed and anxious. It was difficult to wait for something so life-changing without knowing when it would happen. By the following Monday I felt the window close, and it was uncomfortable. Acupuncture hurt, nothing tasted right, and I was having insomnia again. I spoke to my close friend Liana, who is gifted with psychic abilities and able to communicate with spirits and other entities. She acted as a medium with my higher Self and gave me the message: "LET GO." During the reading, she repeated these two words as if she were stuttering, or saying a mantra, and I understood the message. She also told me there were materials in my own library of books that I needed to see. Together we identified the source, one of two spiral-bound workbooks from a Kundalini prenatal yoga teacher training my friend had lent me. I was to look for a quote…

I worked on opening the window again, this time aware that I'd have to exert effort for the window to open. I meditated and talked to myself, my baby, the universe, God, spirits who oversee motherhood, labor, and childbirth... I looked at all the things I needed to let go of. I cried a lot. I asked for help in letting go - of my expectations, of wanting to know what would happen, of my need to control things, of my fear and doubt, of my impatience and not being content in the moment, of my very self, who would cease to exist as I became Mother to Opal. This was the hardest. Whether or not I really liked this person or felt she needed to stay, I was attached. The identity markers of: adult, woman, survivor, feminist, yoga teacher, spiritual practitioner, wife... I mourned the loss of that person and the life she had. I saw that I had to be willing to let go of this self in order to be born a new person. I felt the pain of death as I anticipated birthing my baby girl, and birthing myself as a new mother.

I continued to look through the Kundalini manuals, which were chockfull of precious quotes from Yogi Bhajan and Gurmukh. It made it very hard to narrow down, but I knew I was looking for something specific. I found a few gems that gave me pause, like this one - "Total harmonious relaxation cures the body." I was getting the sense I needed to relax, and worked on that.

By the following Tuesday I was starting to relax. It took effort, but this has been my main yoga practice for some time now. Doing things and working is easy for me. Relaxation is the practice I return to again and again.

The three nights before Opal was born, I continued to have trouble sleeping, and would traverse different levels of consciousness - from sleeping to awake to lucid dreaming, and the states in between. At night, I'd ask her to visit, to come to me and show me who she was. I had a dying urge to know her completely. She showed her face to me each night and I admired her cherubic, Chinese-looking face, uncertain if it was really what she would look like. I felt suspicious that she happened to look so much like I did when I was first born… why did she look so Chinese when her father is so white?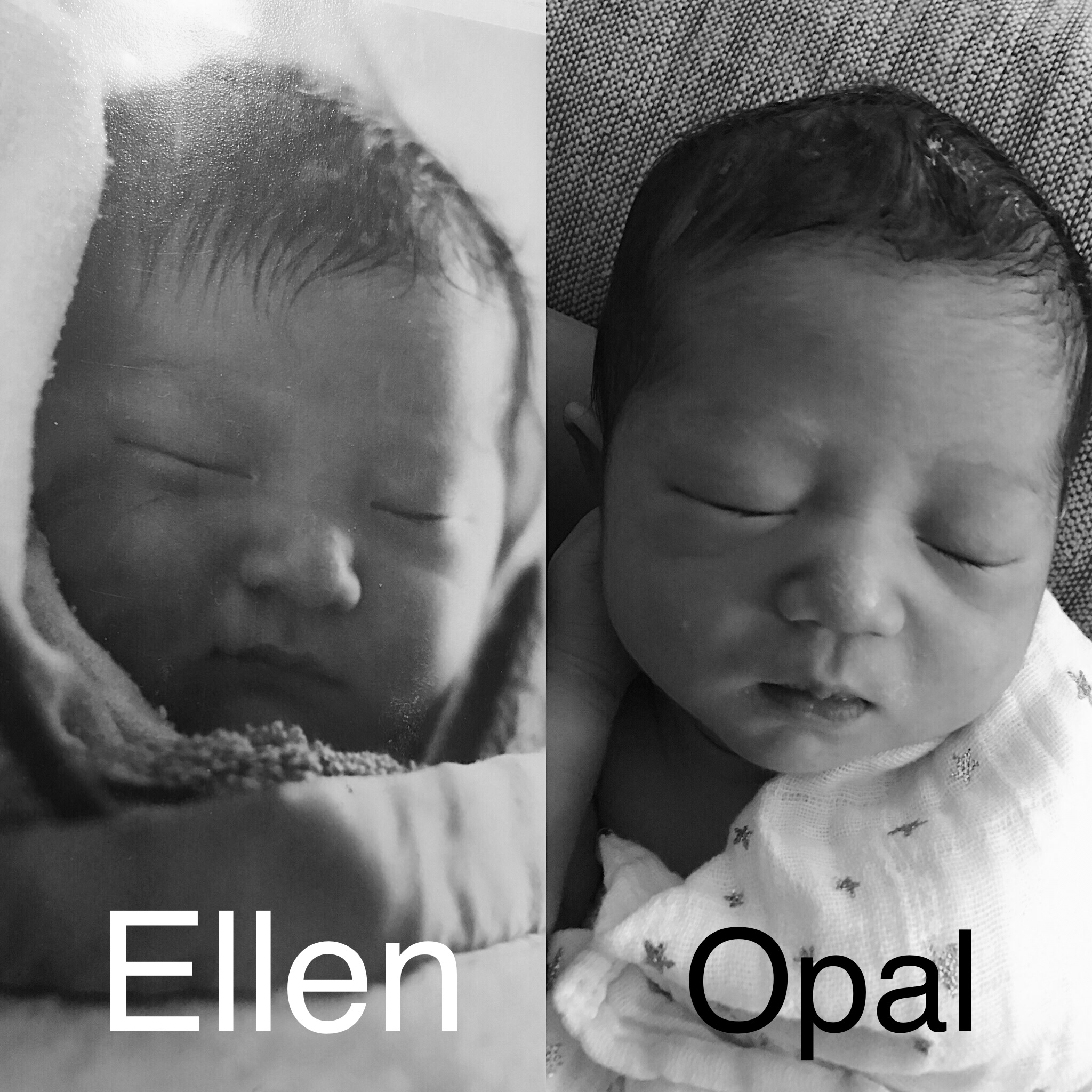 On Wednesday, May 10, I had another sleepless night. At 2am I went to the bathroom and saw blood on my underwear. It was my bloody show, and it indicated to me something had shifted and I'd likely be starting labor sooner rather than later. The window had opened again. I tried to sleep but felt excited. Finally at 5:45am I drifted into sleep. Fifteen minutes later my first painful contraction woke me up. Already exhausted at this point, I would be awake another 24 hours before having Opal in my arms.