I consider labor a form of deep meditation. In the Buddhist tradition, death is considered a painful experience as we let go of everything we held on to so tightly throughout our lives. At the time of death we are forced to let go of our status, our possessions, our dearest relationships, and even our bodies. Our desire to hold onto these things causes pain.
So, in the Buddhist tradition, in addition to keeping our morality, we learn meditation to focus the mind, because an unfocused mind suffers. This principle is also true in labor. To let the mind follow the worries and anxiety of pain is to flail and struggle. To keep the mind present on the experience of the body, rather than trying to escape or avoid the pain, is the only way to survive the experience with grace. It's the difference between a painful birth and an intense birth.
In labor, just as in yoga, there are different levels of meditation. At times, all I could manage was to breathe and allow myself to feel the surges. Then there were deeper visualization methods that required me not only to be present, but also to use the power of my mind to progress the labor. As each contraction hit, I would imagine my body opening and softening, sometimes actually visualizing my cervix dilating, and at other times I saw it as a flower in bloom. In deeper states of meditation, I could transcend labor as a normal, raw, human experience that I was just trying to survive. I could almost step outside of myself and observe me in the birthing experience. I saw how it connected me to every woman who ever existed, and every woman who would come after me. In these moments, I existed in a timeless state as the archetypal Mother, creator of life, and the very embodiment of love. I needed nothing more.
***
It was now after 3am and I had been pushing in the tub for nearly two hours. It was difficult to change positions as the surges intensified. Strangely, the tub slowed everything down, giving me more time to rest between contractions. I needed to keep my legs open as I laid on my side, so I used a block between my legs to prevent them from falling closed. When I sat up in a semi-recline, my legs were too tired to keep upright so I strapped them apart. Even in labor I managed to make use of my yoga props.
I asked the midwives for help. What could I do to speed things along? Was I doing something wrong, is there something I can do better? These miraculous women assured me over and over that I was already doing it. They encouraged me to continue to trust myself – a major feat in the face of this immense challenge. It was hard for me to believe that in this time of extreme adversity, I was already doing all that was needed.
Along with their encouragement, Ashlee, the student midwife, offered me other options. We could break the bag of waters, or I could try laboring in the bathroom, since many women have had success there, sitting on a toilet. I did not want to break the amniotic sac, but decided I'd try the bathroom. I slowly made my way to the toilet that was less than 10 feet away, sat, and pushed for another 5 minutes. I instinctively knew it wasn't going to happen in this crowded space, and moved on to my next location.
It was now about 5am when we migrated to the queen mattress that Grant brought into the living room. It was still dark out, and the fireplace was lit along with candles and some dimmed lights. Grant sat on the edge of the mattress, which was low to the ground, and I sat on the edge of a Squatty Potty between his legs. He held me up under my arms as I squatted against him. This is where Opal would be born.
This was the final stage, and I was completely exhausted. I doubted myself many more times, but still managed to smile between the intensity. I felt immense gratitude for my birth team. These four amazing women sat cross-legged across from me, eyes partially closed, meditating and breathing with me. Ashlee sat directly in front of me, occasionally using the doppler to check the baby's heartbeat. Each time she said, "it's perfect," and I knew we were safe and protected.
I pushed with all I had until I couldn't anymore. Then I'd fall limp and rest completely. I was covered in sweat, as was Grant from the hard work he was doing to physically and emotionally support me. Ashlee and Lindsey assured me that the baby was going to be born right here, within a matter of pushes. I couldn't imagine it, and even lost sight that a baby was the outcome of all this work. At that point I just wanted labor to be over. Then for another round of pushing, I'd give everything I could possibly give - my body, my breath, my voice, my face… nothing went unused as I tried to bring Opal from the inside out. She demanded everything.
Finally it felt like we were making noticeable progress. Ashlee placed a mirror in front of me so Grant and I could see how close she was. Her head was crowning and the top of the bag pushed out; she was no longer retracting back into the comfort of the womb and was determined to make her way out. At this point, Lindsey and Ashlee began to softly sing a Snatam Kaur chant. With Grant behind me, Melanie and Jennifer closed the circle of protection, and I never felt so much loving support as I did in that moment.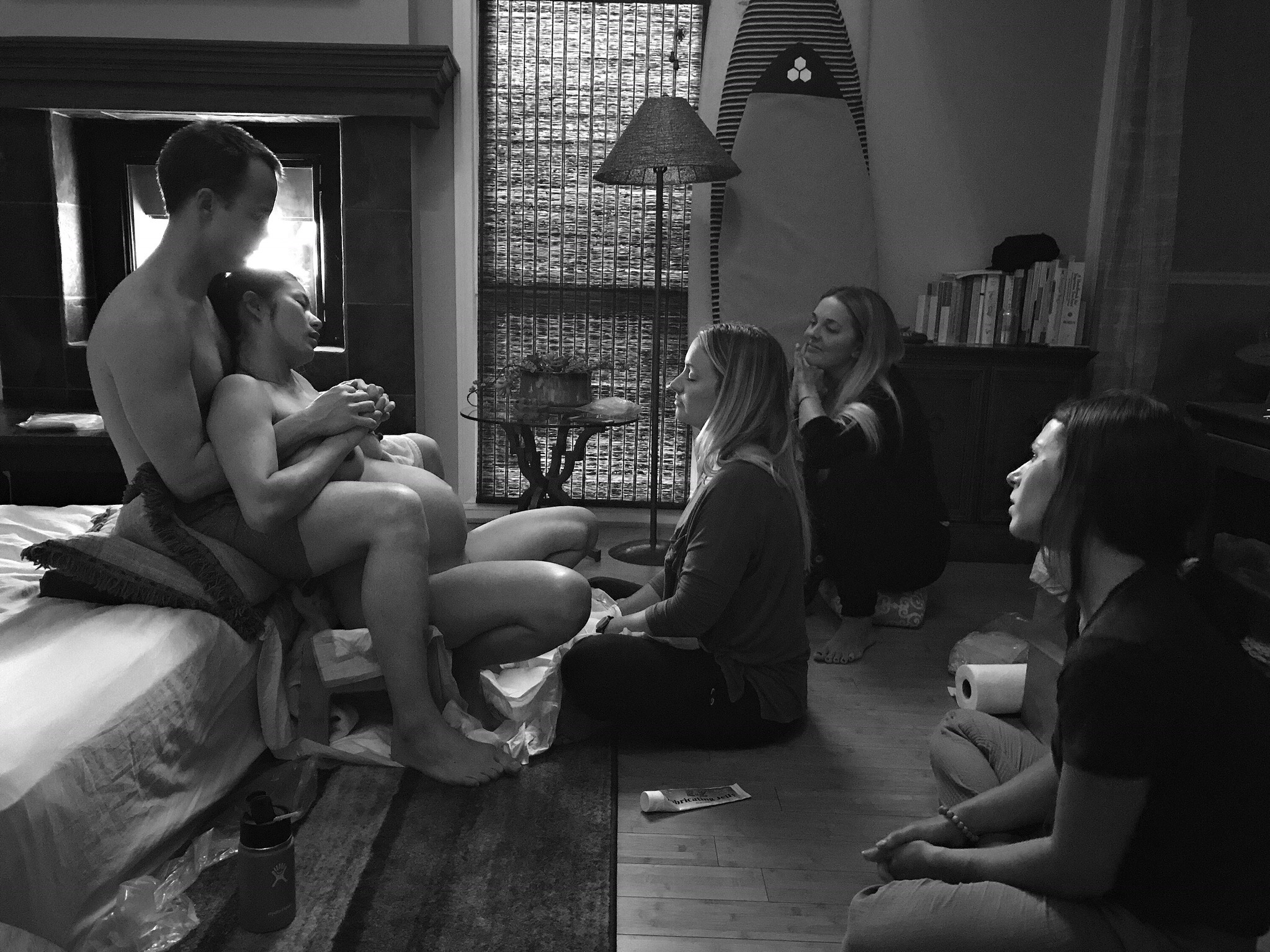 At 6:21am, as daylight began filling the room, Opal Nyx Saltarelli entered this world. This sunrise baby was indeed a messenger of light. Her bag of waters broke as her shoulders came out, and she announced her arrival into this world with loud, healthy cries. With Grant weeping behind me and my face in near disbelief, I held Opal against my chest. Her arms and legs reached and flexed into newfound space, and she immediately started to root as she searched for my breast. There was nothing more surreal and magical than feeling my baby against my body, still connected through a vibrant, blood-dense cord, which wouldn't be cut until it stopped pulsating for nearly another hour and a half.
She was here.
Opal Nyx, where did you come from, and what wisdom do you bring?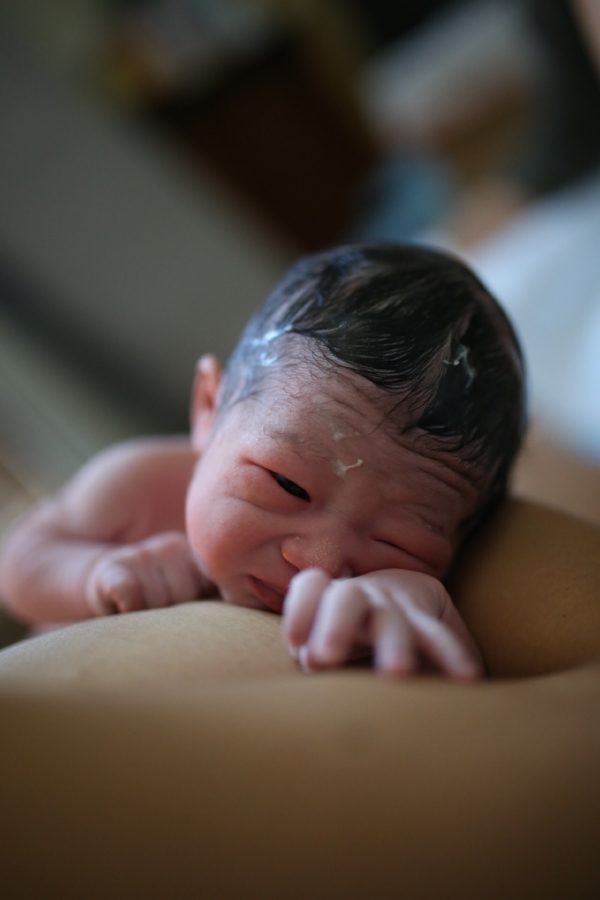 All photos by Lindsey Meehleis, @lindseymeehleis